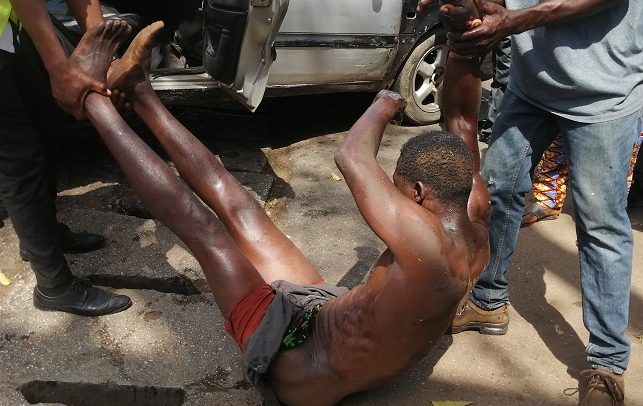 Police rescues 'thief' from lynching
An unidentified man narrowly escaped lynching for allegedly stealing GH¢700 from a lotto agent at Labour Roundabout in Kumasi.
According to eyewitnesses, the lotto agent left an undisclosed amount of cash on his counter while he left to withdraw money from a nearby mobile money merchant.
The suspect, who was lurking nearby, quickly moved in to steal the money.
However, his luck ran out when a hawker spotted him and raised an alarm, attracting several people to the scene.
He took to his heels but the people gave him a hot chase and apprehended him a few metres away.
Sensing danger, he immediately denied stealing and insisted the lotto agent had accused him wrongly.
A search conducted on him, however, revealed that he had concealed the money in his boxer shorts.
This angered the crowd who pounced on him and subjected him to severe beatings with sticks and stones.
He began to bleed profusely from his nose and other parts of his body.
Some officers of the Motor Transport and Traffic Department (MTTD) of the Ghana Police Service who were directing traffic in the area quickly rushed to rescue him.
Meanwhile, the police later transported the suspect to the nearest police station.