President directs Daniel Domelevo to proceed on leave
The Auditor-General has been directed to go on leave after accumulating more than six months worth of rest.
The directive was contained in a statement signed by the Communications Director Eugene Arhin, released June 29,2020.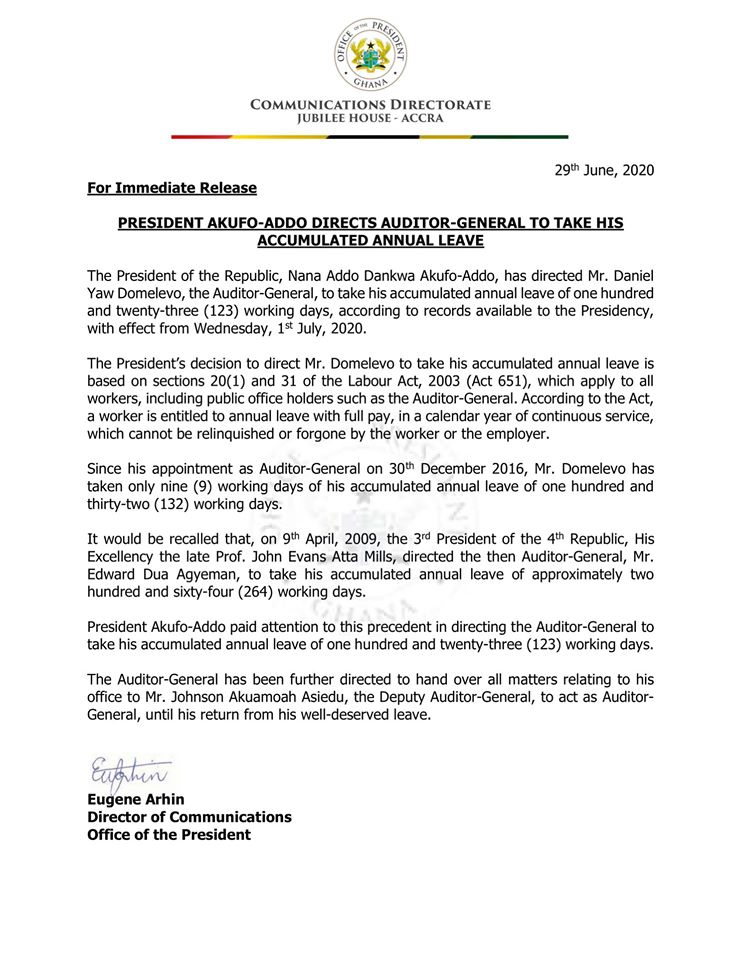 The statement said Daniel Domelevo praised for his anti-corruption campaign had only taken nine days of his accumulated leave since he was appointed in December 2016.
The Communications Director said the decision to direct the A-G to proceed on leave had precedent.
The Auditor-General has been at loggerheads with the president's Senior Minister Yaw Osafo Maafo who has been asked to refund $1million for unlawfully contracting a UK-based consultancy on behalf of the government.
He was appointed in the dying days of the Mahama administraton in December 2016. Since then, he has been viewed by figures within NPP government with skepticism about his neutrality.
One of the people who criticised his appointment, Yaw Osafo-Maafo.
But  Daniel Domelevo has been praised for his anti-corruption fight. His work has also been applauded by diplomats.
Daniel Domelevo's viral comment, 'if you fight corruption, corruption will fight you back' earned him praise from the Danish Ambassador.
Named the 2019 Integrity Personality of the Year, he has injected some bite in the work of the Audit Service formerly seen as toothless.
'Fraudulent' Zoomlion loses appeal against Auditor General on GHc184 million fumigation payments
He has unearthed scandalous dealings at the GETFUND where scholarships were given to politically connected persons and cronies.
The report also attracted criticisms from within the government who questioned the methods employed in auditing and reporting the findings.
While the president's directive quoted relevant labour laws, the term 'proceed on leave' is a politically charged word in Ghana. It is seen as a euphemism for sacking.
The Auditor-General is a position ranked as equal to an Appeals Court judge. He enjoys security of tenure until retirement.
The 58-year old Daniel Domelevo has said he would go into farming if he ever leaves office. This was after concerns he may be removed from office.
'I am not afraid to lose my job' – Domelevo points to Jesus Christ as NPP insiders draw out daggers
The Auditor-General has said he had heard threats of being made to suffer the same fate as Charlotte Osei, who was removed from her Electoral Commission post in 2018.
"Who says I care? I don't care. Life doesn't end here," he said and revealed his professional options.
"My father has a lot of farmlands. I will go and farm."