Rev. Stephen Wengam: A journey to the top in humility, excellence and patience
All men are from God, but not all men are genuinely Holy Spirit-filled to be of God.
Only a few, chosen from the many, count themselves in the class of the latter.
Every Sunday, within the elite neighbourhood of East Legon, he stands behind a pulpit to lead the flock of Christ in worship and prayer.
For decades his voice has been loud and clear, unshaken in charting a path of salvation to Christ and serving as a ray of hope for the dejected.
Reverend Dr Stephen Yenusom Wengam, the Lead Pastor of the Cedar Mountain Chapel (CMC), is a notable contemporary gospel propagator raising the banner of the Assemblies of God Church with distinction.
Yet humility is the most striking personality trait that he casts on you right from the first appearance.
"Humility is something that I cherish. Humility is the shortest cut to the top," Reverend Wengam cites his most cherished springboard.
The first vice president of the Ghana Pentecostal and Charismatic Council, Rev. Sam Korankye Ankrah, leads lavish praises for the exemplary character.
"When we look through the sons we are raising, we could not count more than three, and Dr Stephen Wengam is one of the three [who stands out]. When his name comes out, this is what they all say, 'that man is humble, he respects father's authority and anointing'".
Integrity, excellence, kindness, modesty and empowering others are the core values embedded in his DNA.
Early Life
Rev. Wengam was born to the late Matthew K. Wengam and Mrs Deborah Wengam on 19 September 1972 at Tema Community Four.
He hails from Paknatik in the Bunkpurugu Yoyoo District in the North East Region.
His parents had four children, but three passed away barely before he turned six years.
"It was quite difficult for me. We lived in a compound house, and whenever it rained, the kids would rush into their rooms. I could hear our neighbours jumping and playing, but I was with my parents alone. I used to ask my parents, 'why don't you have another child so I could have a brother or sister?"
As prophecies of Christ abound in the Old Testament, so was Rev. Wengam's fate as a pastor revealed during his christening.
From the line of prayer of the late J.C. Tetteh, his parents knew that he would be a servant of God.
Hence they preserved him in discipline to set him apart for the task ahead.
As young as five, he would assemble other children, sit them down and start mimicking preachers sharing the word of God.
The young Stephen Wengam was inseparable from his pastor.
It left his parents with no choice but to allow regular visits during school vacation due to unbearable squeaks by their son.
It was not until 13 years in 1985 that he gave his life to Christ, and since then, he has never looked back lest he turns into a pillar of salt.
For him, there is no alternative to Christ.
For people who discredit the fact that leaders are born, their answer is Rev. Wengam.
From the first day at school, he was either a prefect or assigned a role that placed him in a higher level of responsibility.
He has been a staunch Christian, pious, strict and ensured a high level of discipline.
At the Teshie Estate Preparatory School, he was acting school prefect a year before Upper Six.
He was a junior yet appointed a head over his seniors and was later confirmed for the position. He combined the role with being the President of the Good News Club.
When he advanced to the Tema Senior High School (TEMASCO), he was elected as the School Prefect and the Scripture Union (S.U.) President.
The only time he became what he termed as "bad boy" was a point in his second year when a beautiful young girl swept him off his feet.
Rev. Wengam recounted how he wrote a love letter to the lady and received an affirmative answer in days.
But this brought an embarrassment of a lifetime as S.U. Leaders intercepted the letter mysteriously.
The S.U. Sanhedrin grilled him, but he denied, and then they pulled out the love letter.
"If there was any moment I felt ashamed, embarrassed and disgraced, it was that day. I cried and apologised. The thing got at me, and I admitted that I was wrong".
"I thank God it [the relationship episode] didn't last more than 48 hours".
He remained pure and a virgin till he got married at age 28.
"It is not only virginity that makes a marriage work, but sanctity and chastity attracts God's blessings," he encouraged the younger generation to emulate purity.
Service to God and Nation
In his first year at the University of Ghana (U.G.), where he studied B. Sc. Administration specialising in Marketing, he was appointed National President of the Assemblies of God Campus Ministry.
He became a Radio Pastor for Radio Universe and a talk show host on bible exposition.
Currently, he is the resident pastor for Accra-based Citi FM, hosting a daily devotional programme on weekdays.
When it was time for his national service, Wa was his only preferred destination.
"I chose Wa intentionally. I wanted a place where I could go and serve God better and make a better impact," he explained.
Rev Wengam later served as the Assemblies of God Youth Director for Greater Accra for 10 years.
With a team of motivated leaders, they diversified the church's programmes on educational development and spiritual growth.
He was Associate Pastor at the Glory Assemblies of God and Osu Ringway Assemblies of God.
Then came his appointment as the Director of Administration at the headquarters of the Assemblies of God for eight years, spanning the leaderships of three different General Superintendents.
With his background and professional experience, he shaped some of the church's policies to appeal to the generational divide.
They started Assemblies of God Professional Network, Prime Insurance Company and introduced capacity-building initiatives.
Assemblies of God was ushered into an era of media vibrancy on national issues and engagement with the public.
He was part of the committee that drafted the current Assemblies of God constitution.
As the West Africa Executive Coordinator of Global Leadership Training, he has developed leadership manuals with the blessings of the headquarters in the U.S. for training over 3000 pastors on essential topics not addressed in Bible School.
These include branding and effective church administration.
Perhaps Rev. Wengam is synonymous with prison ministry as the country called on his leadership to serve as a member of the Prisons Council and later Chairman of the Prisons Council.
His 'baby' was the self-help project to transform Ghana's prisons dubbed 'Project Efiase', executed with astute council members.
He spearheaded a 10-year strategic plan and a trust fund to appeal to citizens, the private sector and the international community to raise GHS 26 million yearly to implement the project.
The government responded and gave the prisons service 88 vehicles and released GHS 50 million to build the first remand prisons at Nsawam to decongest the Medium Security Prisons.
Other diplomatic missions responded to the clarion call.
The U.S. government sponsored about 76 prison officers for further training abroad.
Additionally, equipment and donations flooded the prisons to ease the inhumane conditions of inmates.
At the time, the daily feeding fee for prisoners was GHS 0.80, including profits for contractors.
It was revised to GHS 1.80 after intense engagement with the government with the hope of getting  GHS 3.
"We don't understand the correctional system, so we think it is a waste to push money towards prison reforms", but "the prison is everybody's potential home".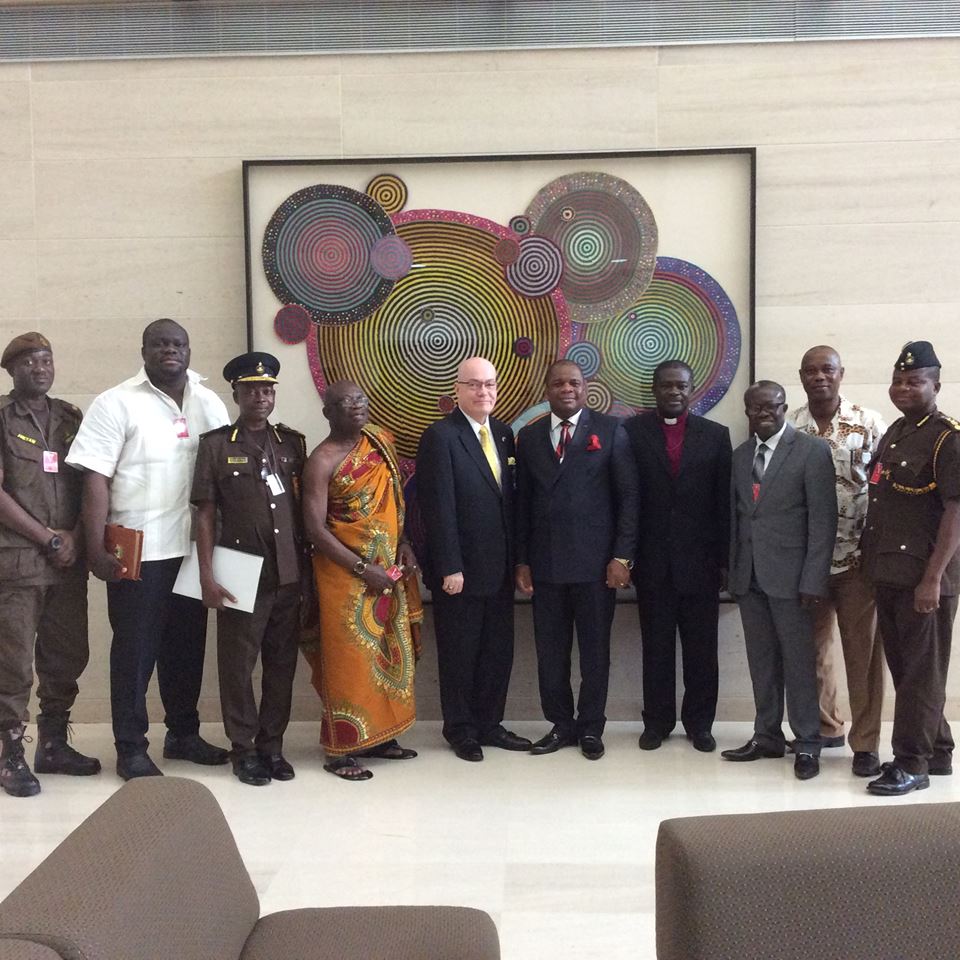 He also lobbied for the distance learning programmes by the University of Ghana (U.G.) to be introduced in prisons in 2016.
But for the council's input, Ghana's proposed 40-year development plan by the National Development Planning Commission (NDPC) would have relegated prisons.
Marriage/Family
He is married to Monica, and the couple celebrated their 20th anniversary on 14 February 2021.
They are blessed with a seven-year-old daughter and a five-year-old son.
General Superintendent of the Assemblies of God, Ghana, Reverend Professor Paul Frimpong-Manso, could not help but applaud the couple blazing a trail for troubled marriages.
"If you have been able to stick together for two decades and counting happily, it tells me of the investments both of you must have made in love, tolerance and commitment. And for that, I salute you".
The compliment is well-deserved because life was not easy as the couple had to wait for 14 years for children.
"You had to endure pressure from family and friends who were not sensitive and sometimes would ask sarcastic questions as if children are mangoes that you just go and pluck.
"But it was one of the most cherished moments [of our marriage] because my wife and I bonded. If we are to come back into this life again, I will still choose that path. We learnt patience, tolerance, and the greater purpose of marriage, which is not for childbirth but fellowship. Children are only a bonus from God," he said.
For him, the country should "institutionalise marriage counselling beyond the church".
"In this era of knowledge explosion. Infertility is curable, and if not, there are options such as adoption. Our traditions have demonised adoption, but Pharaoh's daughter adopted Moses, and even Jesus is an adopted son of Joseph".
"Christians are not the original children of God but the Jews. Because they rejected Jesus, that is why Paul said God engrafted us and we became children of God. So, clearly, adoption is biblical".
"I will appeal to government; the bureaucracy there is worrying. Now it has become merchandise where people have to pay so much money. Meanwhile, the people who have to take care of them (orphans) do not have access.
"The orphanage is not the best place to raise children. No! We should encourage adoption. I have had couples complain that they have been in a queue for seven years and people are doing undercover through the black market".
"Thank God for in vitro fertilisation (IVF); thank God for surrogate parents which could be explored. God gave wisdom to us to create and find solutions".
Cedar Mountain Chapel (CMC)
Reverend Wengam's insatiable passion for excellence made him question mediocrity in church administration.
With a strong desire to raise the bar, he birthed the Cedar Mountain Chapel after a revelation.
"But in the last days it shall come to pass, that the mountain of the house of the Lord shall be established in the top of the mountains, and it shall be exalted above the hills; and people shall flow unto it" – Micah 4:1 [King James Version].
"In these end times, the church must become the most significant, the most prominent and the most influential and relevant institution on the face of the earth," Rev Wengam noted.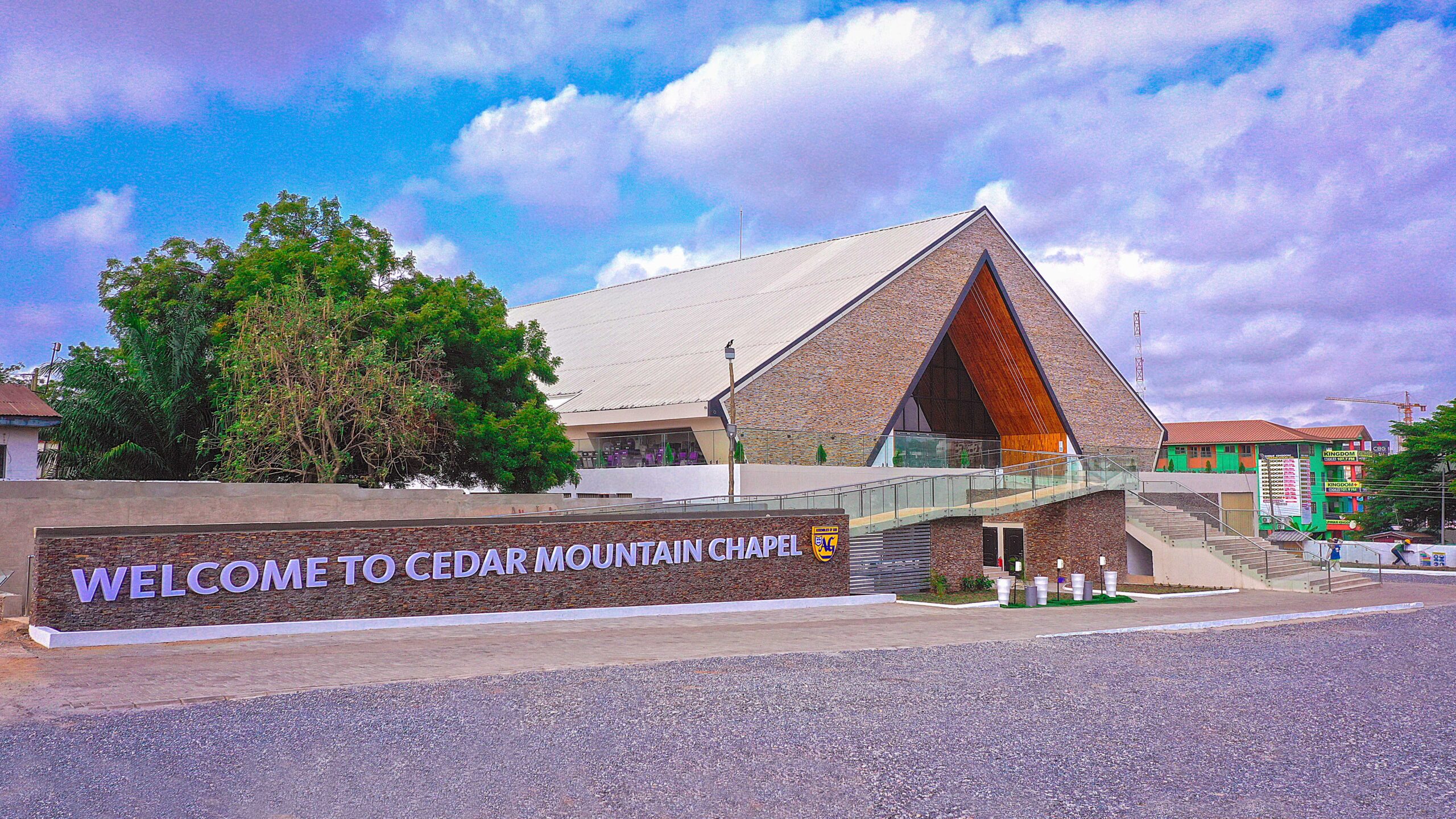 Cedar is a prestigious plant in the Middle East used for high-quality constructions, cited in the bible.
"The righteous will flourish like a palm tree; they will grow like a cedar of Lebanon; planted in the house of the Lord, they will flourish in the courts of our God. They will still bear fruit in old age; they will stay fresh and green" – Psalm 92:12-14 [New International Version]
According to the biblical narrative, Solomon's Temple was built with cedar in honour of God.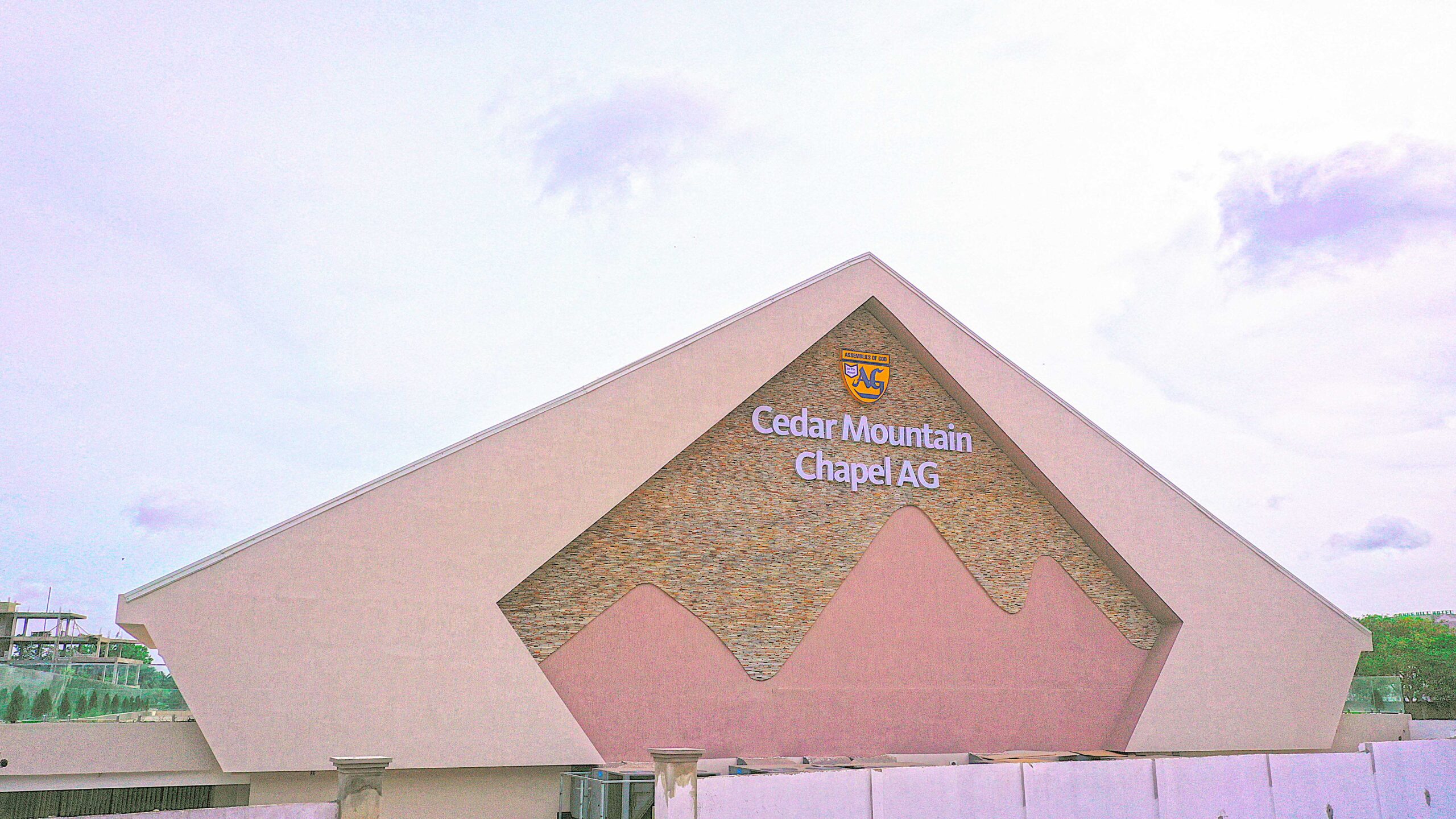 From a deeper meaning, Reverend Wengam believes cedar stands for excellence.
Hence, Christianity and the bible is made relevant to national development in the lives of church members to blossom in all areas.
"Pastor Stephen, I love you. I affirm your leadership. I am so grateful for the direction that God is leading you, and your worldwide Assemblies of God family salute you," General Superintendent of the Assemblies of God, USA, Doug Clay complimented.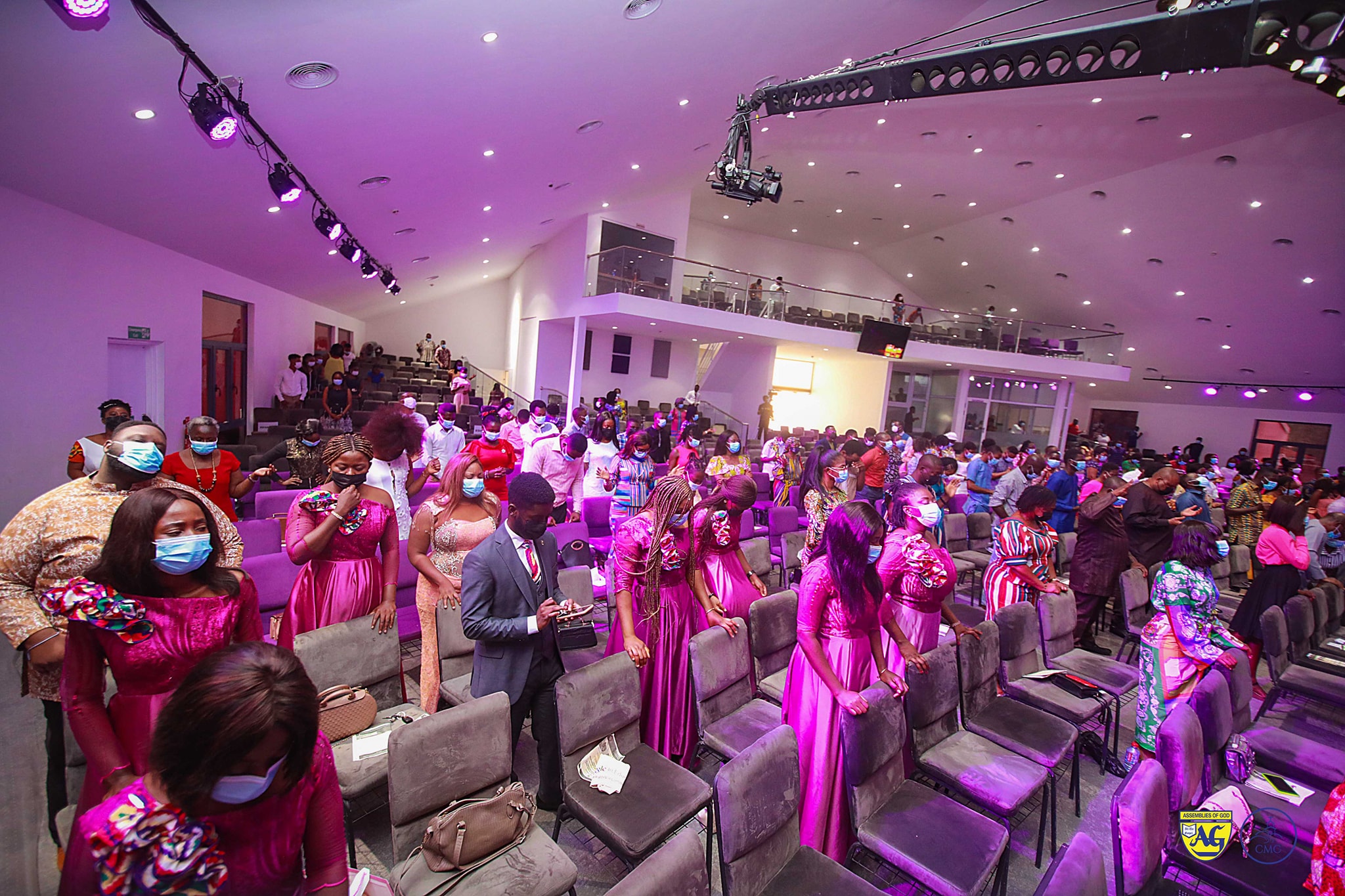 CMC, a thriving church established 10 years ago, has a magnificent, awe-striking facility that greets anyone entering East Legon from Shiashie.
Members heavily sponsored the church project after the seeds sowed by Mr and Mrs Wengam.
"My wife and I had saved for 10 years to build our dream house, but then the Lord spoke to us. All of the 10-year investment plus our A.G. pastor appreciation money went into the project, and members responded equally, and that is how we got the project going".
The man of God believes excellence should lead the way and "God deserves the best".
But the grand agenda, contained in the church's 10-year strategic plan, perhaps the only church in the country with such a plan, is to build The Cedar City.
"We want to build a hospital for the aged, a school and other facilities.
"To win the community and disciple them to become like Christ and extend the impact in leadership, business and politics.
"We are challenging our members to go into politics," Rev. Wengam outlined his vision.
The church has two members who are legislators.
The next election targets 10 members to contest because "Christians carry the solutions and cure to societal problems", Pastor Wengam asserted.
They intend to transform the church's credit union into a savings and loans firm to empower members to establish businesses.
CMC has introduced innovative ways of conducting church activities, departing from the traditional consecutive methods.
'Kindness Evangelism' is the new approach to reach out to souls for Christ.
Rev Wengam's kind-hearted spot was reactivated once COVID-19 hit hardest.
Offertory was at an all-time low, churches had to shut, and members were in distress.
The impact of the pandemic shaved off 85% of the church's funds, and bills skyrocketed, others in rural areas being the worse hit.
"I saw a vision with pastors in clerical robes begging for food. The Lord said I should do something, but I didn't have the resources. I spoke to my wife, we prayed and went to close all our personal investments to start sending relief packages".
After providing for over 2000 pastors, the burden became heavier.
Squatters were not excluded as the church catered for over 300 homeless people during the COVID lockdown.
He needed assistance to extend relief beyond the church.
With his wife, they began a ministry to cater for the vulnerable in the church.
Retired pastors, especially from villages whose local churches cannot sustain them, are high on the list.
Pastors' widows are also an important category for monthly support. A health team provided medical treatment for 76 retired pastors and their spouses in the Ashanti Region.
The next would be 120 retired pastors and their spouses as well as pastors' widows in Accra.
Innovation and visionary leadership drive the church, and Rev Wengam insists that the body of Christ "should not always be collecting but give back".
The General Overseer of the Charismatic Evangelistic Ministry, Reverend Steve Mensah, applauds Rev Wengam for his drive.
"Your pastor is a very kind person. We were all here for the temple dedication. It was an amazing ceremony. All kinds of people were here to thank God for this beautiful edifice. What amazes me is that after building this, your pastor is on another journey building something else. I said, 'Ei, your pastor is a visionary leader'. I love people like this".
Wise words
Rev Wengam does not endorse the regulation of churches but charges state authorities to clamp down on criminals parading as pastors.
"If a pastor makes a reckless statement or goes to do something untoward, let the law take its course".
In the era of a boom on prosperity gospel, he has encouraged Christians not to lose focus on salvation.
"In the olden days, we demonised prosperity, and then we became enlightened and realised that it was a mistake; God is not against prosperity. Then we moved to another extreme of prosperity message where people want to be rich at all costs. 'If you are poor, then you are not spiritual; if you suffer a little, then you are under a curse'. We must create a balance".
"A false balance is an abomination to God," he advised. "God is a God of process. God is not a magician. God will not jump you from class one to class 20. Yield to training. Don't expect instant wealth. It is not biblical. Let us learn to be patient".