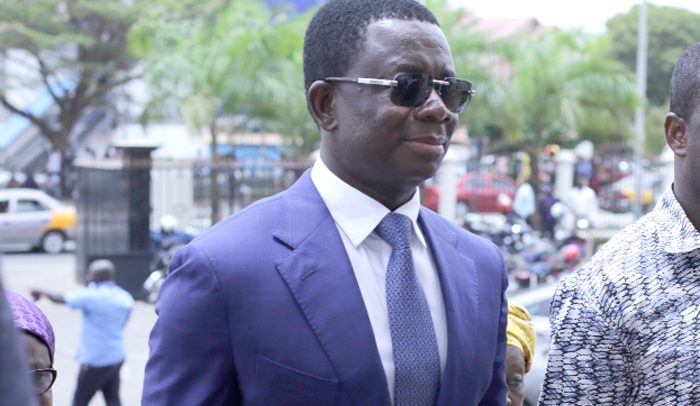 Supreme Court sets October 26 to rule on Justice Honyenuga's removal
The Supreme Court has set October 26 to rule on a review application challenging the removal of Justice Clemence Honyenuga from a COCOBOD trial at the Accra High Court on the grounds of bias.
On July 28, 2021, an earlier panel of five, in a three-two majority decision stopped Justice Honyenuga from presiding over the case in which Former COCOBOD boss Dr Stephen Opuni and businessman Seidu Agongo, are standing trial for various roles they played in a COCOBOD fertilizer deal.
The panel also quashed portions of an earlier ruling on a submission of no case delivered by the trial judge Justice Honyenuga on the COCOBOD matter.
The decision by the apex court was greeted with boos and cheers. On one hand, former COCOBOD boss' team was happy the trial judge had been removed, but the Attorney General said the ruling was unfair.
State prosecution insisted the apex court's decision contained fundamental errors which resulted in miscarriage of justice, leading to today's hearing.
The new seven-member review panel presided over by Justice Jones Dotse, listened to arguments from the Attorney General and lawyer for former COCOBOD boss Samuel Cudjoe, on why the Supreme Court judge should be removed or maintained as the substantive judge.
Arguments from both parties
Attorney General Godfred Yeboah-Dame maintained that the apex court committed a fundamental error of law when it took Justice Clemence Honyenuga off the case.
"The decision of the ordinary bench contained fundamental and grave errors which have manifestly resulted in a substantial miscarriage of justice," he said on Tuesday.
The Attorney General further said that "a decision which erroneously departs from recognized principles regarding the invocation of this honourable court's supervisory jurisdiction is bad in law, manifests injustice and constitutes an exceptional circumstance [thus] warranting a review by the court".
"It is our humble submission that a careful application of relevant principles regarding the invocation of both the supervisory and review jurisdictions of the Court will undoubtedly result in a setting aside of the decision complained of. To preserve same will be a bad and dangerous precedent for Ghana law," he concluded
Counsel for former COCOBOD boss Samuel Cudjoe insisted the Supreme Court did not commit any error, but rather applied the law.
"It is obvious to us that this court acted properly. The judgement is sound and the applicant had not met the threshold," he submitted.
He also pointed that the trial judge had already taken a stance, that Dr Opuni was guilty.
"He had made up his mind and was going through the rituals while waiting to pronounce sentence," Mr Cudjoe added.
The earlier panel members included Justices Jones Dotse, Avril Lovelace-Johnson, Gabriel Pwamang, Agnes Dordzie, and Issifu Omoro Tanko Amadu.
With regards to the earlier vote; the presiding judge Justices Jones Dotse, together with Avril Lovelace-Johnson, dissented, while Justices Gabriel Pwamang, Agnes Dordzie, and Issifu Omoro Tanko Amadu held for Dr. Stephen Kwabena Opuni.
Now, two new justices have been added to hear the review application. They are Prof Ashie Kotey and Gertrude Torkornoo.
Read Also: Will the NDC ever forgive Justice Honyenuga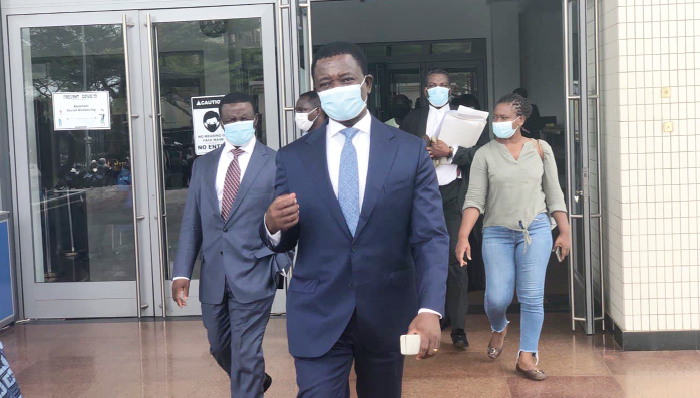 Background
The former COCOBOD boss, Dr Opuni and the CEO of Agricult Ghana Limited, an agrochemicals company, Seidu Agongo, are being tried over allegations of causing financial loss of more than GH₵271 million to the state.
The GH₵271 million alleged financial loss to the state is in respect of their engagement in illegalities in a series of fertiliser transactions, making the Attorney-General drag them to court in March 2018.
Agongo is alleged to have used fraudulent means to sell substandard fertiliser to COCOBOD for onward distribution to cocoa farmers.
Dr Opuni is also accused of facilitating the act by allowing Agongo's products not to be tested and certified as required by law.
They have been charged with 27 counts, including allegedly engaging in illegalities leading to the distribution of sub-standard fertilisers to cocoa farmers.
The two have denied any wrongdoing and have pleaded not guilty to all the charges against them and are currently on a GH¢300,000 self-recognisance bail each.
Bribery Allegation
According to the facts of the case, Dr Opuni, on October 10, 2014, while he was the CEO of COCOBOD, agreed to permit his office to be influenced by an amount of GH₵25,000.
The second accused person, Mr Agongo, has also been accused of "endeavouring to influence the conduct of Stephen Kwabena Opuni in the performance of his duties as the CEO of COCOBOD by offering him an amount of GH₵25,000" on October 10, 2014.