Top 7 footballers whose development were greatly inspired by their childhood idols
Football is arguably the most followed sport in the world, it is obvious that footballers serve as inspiration to millions of their fans.
Their dedication, talent, humility, and charisma are some significant attributes that bring out admiration from the fans who look up to them and consider them idols in their lives.
Recognized players around the world like Lionel Messi, Cristiano Ronaldo, Karim Benzema, Kylian Mbappe, Erling Haaland, and many others have already reserved a respectable place in the hearts of fans all over the globe. And they have driven plenty of aspiring footballers to be like them.
And just like they have been able to influence many, they also modeled their game and style according to their predecessors – icons of the sport who were their childhood heroes.
Here, the Ghana Report looks at footballers and their biggest childhood idols whom they played with/against, including Lionel Messi's hero, the influence of Cristiano Ronaldo on Kylian Mbappe.
1.Lionel Messi and Pablo Aimar
Lionel Messi liked Pablo Aimar – Aimar was a technically brilliant and skillful Argentina international, so it's little surprise Messi was, and still is, a big admirer.
Aimar represented Argentina in two World Cups, in 2002 and 2006, in the latter edition, he played alongside Messi.
"Pablo Aimar was, and is, my idol," Messi once revealed. "I really like to watch him play and I have followed his career since the beginning at River Plate." They labeled Aimar as the next Maradona but never reached the potential.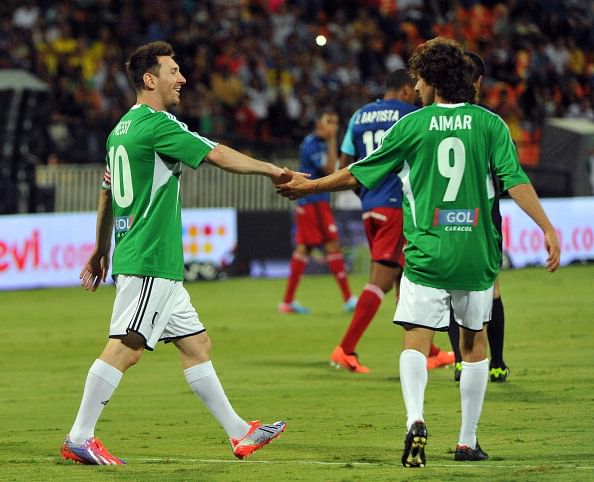 2.Cesc Fabregas and Andres Iniesta both idolised Pep Guardiola
Both midfielders operate in the same position Guardiola did and model their style on the creative Spaniard.
Iniesta was promoted to Barcelona's first team in 2002 when Guardiola had already left for Brescia.
Later on, the Catalan returned as a coach, working at Camp Nou between 2008 and 2012. However, Iniesta wasn't always a guaranteed starter. It was under Guardiola that the legendary Xavi-Iniesta duo was established.
3.Eden Hazard and Mario Gotze idolised Zinedine Zidane
Both players have been inspired by Zidane since childhood, enthralled by his composure on the ball and elegant playing style.
"I have a lot of respect for Zidane, he has been my idol, thanks to him I started playing football," Eden Hazard was quoted in 2017.
In the summer of 2019, Eden Hazard landed in Madrid with the influence of his childhood idol, Zinedine Zidane who was the head coach at the club.
4. Carlos Valderrama was an idol of James Rodriguez
Many Colombians see Rodriguez as the natural successor to Valderrama as the country's football hero.
But even Rodriguez is not as fondly thought of in Colombia as Valderrama. In fact, it was Valderrama who inspired the next golden boy of Colombian football. "Valderrama was the one I admired most," The former Real Madrid star Rodriguez was quoted to have said in an interview.
5. Thierry Henry was an idol of Robert Lewandowski
Goal scorers learn from the best and Lewandowski closely studied Henry during the striker's time at Arsenal where he scored 228 goals.
The Barcelona striker, who scored 178 goals in 228 matches for the Bundesliga side, Bayern Munich looked up to the lethal forward when he was developing his game. The 30-year-old admired the World Cup winner not just for the way he scored goals but also for how he helped his teammates.'When I was six, I remember Roberto Baggio at the 1994 World Cup,' Lewandowski told BBC Radio 5 Live.'When I was between 10 and 14, Alessandro Del Piero was the best player for me. Then my idol was Thierry Henry. He was amazing – it wasn't just how he scored the goals but what he did for the team.'When he was at Arsenal, I remember how easily he scored goals from different situations. He could score from the left side into the far corner with his right foot. It was so easy for him – I wanted to score a lot of goals too and I could learn from him.
6.Kylian Mbappe and Cristiano Ronaldo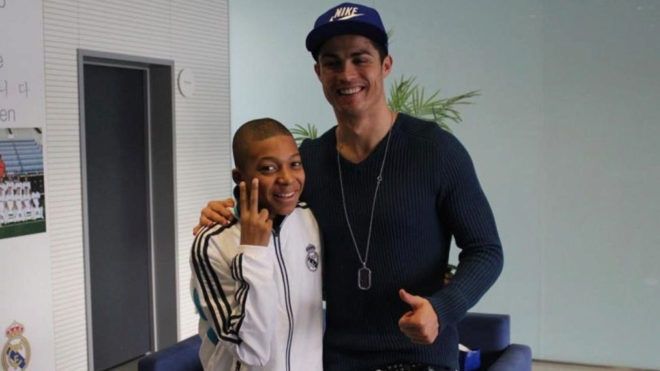 Speaking in 2016, Mbappe said: "He is a Real Madrid fan and his idol is Cristiano Ronaldo. He used to spend hours watching videos [of Ronaldo] on the internet."
In 2018,  Cristiano Ronaldo and Kylian Mbappe met for the first time in a Real Madrid vs PSG match in the champions league where the latter won by 3 goals to 1.
After that, the two have met in several matches when it comes to national football.
Following the 37-year-old's elimination from the World Cup in Qatar 2022, Ronaldo posted a lengthy statement on Instagram, with Mbappe replying with the familiar emojis.
Then on the eve of the final, a final which would be dominated by the PSG star and his Argentine colleague, Messi. Mbappe's PSG colleague Abdou Diallo revealed in an interview that the France international was unmoved with his verdict on Ronaldo and Messi's comparison.
"Cristiano Ronaldo is literally everything to Kylian Mbappe," the PSG defender explained: "If you mention Lionel Messi against Cristiano, Mbappe will debate with you for at least an hour. For him, Cristiano is untouchable."
And his admiration was on clear display during the thrilling friendly, which ended 5-4 for the French champions in the  Saudi All-Star XI versus PSG friendly in January 2023.
7. Mateo Kovacic and Luka Modric
Chelsea midfielder, Mateo Kovacic has named Real Madrid's Luka Modric as his idol in football.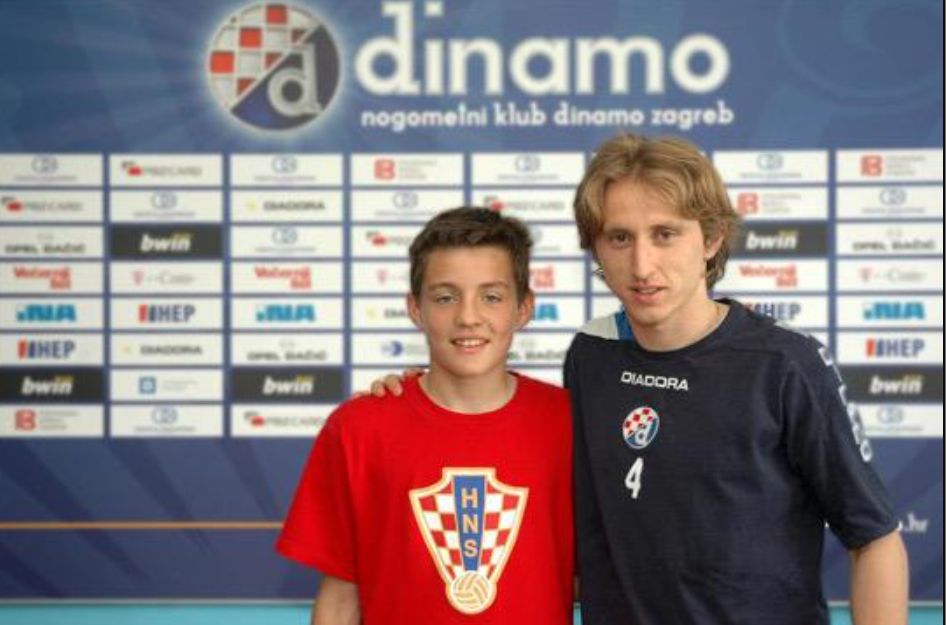 Kovacic, who was a former club teammate with Modric during his time at Real Madrid, described the 37-year-old as a leader.
Both of them coming through the ranks of Dynamo Zagreb football club, Kovacic surely admired the mercurial play of his idol.
"My successor in Croatia and the most talented player, I think, is Mateo Kovacic," Modric said in an interview with Marca in February 2022.