Barbara wanted divorce because her 'pastor' husband was into occultism – Sister
Pastor Sylvester Ofori who is standing trial for the murder of his wife, Barbara Tommey, was involved in occultism, sister of the deceased, Sophia, has said.
According to her, Barbara wanted out of the marriage after she found out.
"When Barbara noticed that her husband was involved in occultism, she moved back home to Florida for six months, later the husband came to beg her," the sister said
Recounting how Sylvester got involved in occultism, Sophia said;
"About two years ago Sylvester came to Ghana to meet a certain pastor and they both traveled to a certain town in Nzema in the Western Region, where [Sylvester] was given a certain book to read
"When he returned to the States, he gave the book to Barbara to read and that was when she noticed that her husband had joined an occultic group, so she wanted out of the marriage," she told Joy FM in an interview monitored by theghanareport.com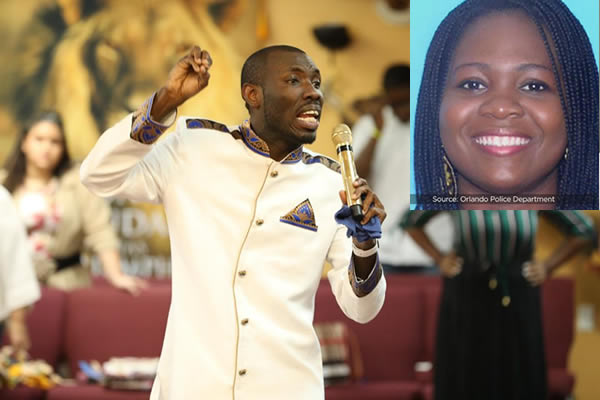 She said Barbara saw blood on her husband's forehead and enquired about it but Sylvester lied that he mistakenly hit his head on a pillar in his church.
But not long after this [Barbara] saw their car parked at a temple where occultists meet, her sister said.
"Barbara traced her car and saw it at a place where they call saints and that confirmed her earlier suspicion and that was when she filed for a divorce"
Occultic rituals
As part of the occultic rituals, Sylvester was asked not to make love with his wife.
"He was asked not to have sex with my sister rather he was visiting strip clubs, drinking alcohol and doing things undeserving of a preacher"
According to her, Barbara after witnessing all these changes decided to end the marriage.
"Sylvester wanted my sister to join him in the occultism but we were raised right and so it did not sit well with her spirit" she added.
The two have been married for 7years with no children.
https://web.facebook.com/watch/?v=757371451501634&extid=zibJWbxLvsd6Jkcp
Cheating rumors
Debunking cheating rumors that Sylvester caught Barbara in bed with the Church's music director, Sophia said "Barbara never cheated on her husband, she is a gentle soul and would never cheat on him"
Viral video
Speaking to the viral video showing the moment the pastor vowed to kill his wife, Sophia said Barbara had gone to the house accompanied by her brother and his wife to pick up some documents.
"The confrontation in the video is as a result of Sylvester's refusal to sign the divorce papers, he did not want my sister to go because he does not do any other work than pastoring the church" she noted
Background.
Sylvester Ofori was arrested after allegedly shooting his wife.
Barbara Tommey, 27 years, was on her way to work Tuesday morning when she was shot outside the Orlando credit union.
She has pronounced dead at Orlando Regional Medical Center shortly afterward.
The Police said the shooting was captured on security footage.
"You can tell that she's trying to get inside. Unfortunately, he shot her outside of the establishment," the Orlando Police Chief said.
A witness named only as Lisa said she saw the whole thing as she was waiting outside before the bank opened. "I'm shaken up right now, I'm still shaken up," she said on a TV channel.
Police said a search warrant was served at the suspect's apartment and Ofori was taken into custody.
Ofori, 35, was taken into custody at his apartment Tuesday evening, the OPD spokesperson said. He is being held at a County jail without bond on a charge of first-degree murder with a firearm.
Mr. Ofori, pastors the Floodgates of Heaven church and, describes himself as a prophet and motivational speaker.
Prior to the gruesome murder of Barbara, Ofori made several posts on his Facebook post which many have come to describe coded messages.