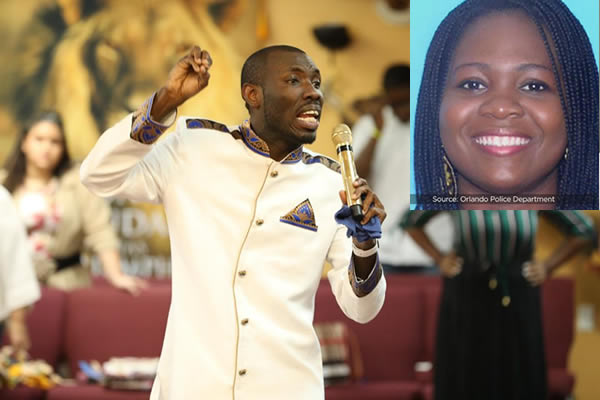 Their marriage began with a vow, and her death also began with a vow.
It has emerged that the US-based Ghanaian pastor who shot and killed his wife had threatened his brother-in-law he would kill his sister hours before the act was carried out.
The Florida-based Sylvester Ofori, was arrested after allegedly shooting his wife, Barbara Tommey.
In a video which has since gone viral, Barbara had gone to her husband's home in the company of her family to pick up some documents and items.
Her husband then attacked her in the presence of her family, forcing her brother, Perry to quickly intervene.
"I came in here and I told you to sit back. I told you we are not here to argue with you. Why did you attack her? You started it," Perry said as he pinned down the pastor in what looked like a closet.
The late Barbara was heard in the video telling her brother his confrontation with her husband "was unnecessary".
During the heated argument in the pastor's apartment, he accused the late Barbara of witchcraft.
"You were the same person who supported me at the wedding, right? Now you're here to support your sister. The same sister who the pastor told you that, she was a witch, am I right?" the suspect told his brother-in-law.
He was dared by Perry to mention the pastor who accused his sister of witchcraft, something the suspect failed to do.
"You call yourself a pastor? You? We don't know whether you're Komfo Anokye or Pastor. My friend, get out of here. We didn't come here for you. Don't let me hurt you," Perry told the pastor.
On his way out of the door, the pastor asked his brother-in-law if he could make him a promise to which the other responded in the affirmative.
"Can I make you a promise? If I don't kill your sister, then me (Sylvester Ofori) I am fake," he said as he made his way out of the apartment.
Perry then instructed his sisters to call the Cops and lodge a complaint but Barbara declined saying she did not want things "to escalate".
"No! You don't play with threats like this. I'm calling the Cops.It should escalate. He threatened you in front of me. He said he's going to kill you. What are you waiting for? "You heard what he said," Perry told his late sister, Barbara.
Background
Sylvester Ofori was arrested after allegedly shooting his wife.
Barbara Tommey, 27 years, was on her way to work Tuesday morning when she was shot outside the Orlando credit union.
She was pronounced dead at Orlando Regional Medical Center shortly afterwards.
The Police said the shooting was captured on security footage.
"You can tell that she's trying to get inside. Unfortunately, he shot her outside of the establishment," the Orlando Police Chief said.
A witness named only as Lisa said she saw the whole thing as she was waiting outside before the bank opened. "I'm shaken up right now, I'm still shaken up," she said on a TV channel.
Police said a search warrant was served at the suspect's apartment and Ofori was taken into custody.
Ofori, 35, was taken into custody at his apartment Tuesday evening, the OPD spokesperson said. He is being held at a County jail without bond on a charge of first-degree murder with a firearm.
Mr. Ofori, pastors the Floodgates of Heaven church and, describes himself as a prophet and motivational speaker.
Prior to the gruesome murder of Barbara, Ofori made several posts on his Facebook post which many have come to describe coded messages.