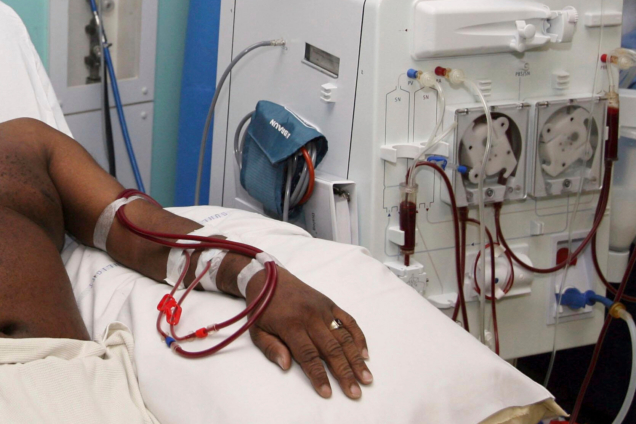 Govt Begins Processes To Include Kidney Dialysis To NHIS
The National Health Insurance Authority (NHIA) has initiated processes to add the cost of dialysis for kidney patients to the National Health Insurance Scheme (NHIS).
According to the Central Regional Director of NHIA, Mr. Fred Appiah, the authority has started collecting data from all teaching hospitals where dialysis treatment is done for the process to commence.
He revealed that his office had already submitted data gathered from the Cape Coast Teaching Hospital (CCTH) to the head office.
"I believe that once we are done with the data collection, there will be positive news that we will consider adding dialysis onto our package," he said.
"Looking at the time they gave us, I know management will work on it within the shortest possible time and give the nation feedback".
Mr Appiah also indicated that the assessment would determine whether the authority would absorb the total cost or part of the treatment.
He added that the NHIS covered about 95 per cent of diseases in Ghana, with more than 540 medicines.
It will be recalled that the Korle Bu Renal Dialysis Unit increased the cost of dialysis services, leading to an outcry by patients, the Minority in Parliament and some critics.
Later, the Korle Bu Teaching Hospital made a U-turn to revert to the initial charges while they engaged stakeholders to address the increased cost of consumables and other items needed for dialysis.
A wave of campaigns started with calls for the cost of dialysis to be absorbed under the NHIS.
The country representative of the World Health Organisation (WHO), Dr. Francis Chisaka Kasolo, urged the National Health Insurance Authority (NHIA) to expand its benefits package to cover critical illnesses, including kidney diseases.
Other key personalities, like the ranking member on the Health Committee of Parliament, Kwabena Mintah Akandoh, also urged the government to find alternatives to support individuals suffering from kidney diseases.
Notwithstanding, the Korle-Bu Teaching Hospital has made a passionate appeal to Parliament to approve new fees for the renal unit.
The hospital has also called on the Ministry of Health to address the GH₵ 4 million outstanding debt incurred due to under-recoveries.
The renal unit was closed temporarily but was officially reopened to outpatients on Monday, November 6.
Sadly, during the period of closure, 19 kidney patients lost their lives, according to the President of the Renal Patients Association, Kofi Baffour Ahenkorah.