Police on manhunt for robbers who killed MoMo vendor
The Walewale Police Command is on a search for suspected armed robbers who attacked a Mobile Money vendor on Wednesday, 24 November 2021, at Yama in the West Mamprusi Municipality of the North East Region.
According to the police, the gang of seven shot and killed one Bugri Imori, aged 38, and severely wounded a 37-year-old man at Yama.
Police said in a statement that the suspects also attacked other shops in the municipality, and made away with an unspecified amount of money and other items.
The law enforcement agency assured "intensified patrols and anti-robbery operations within the West Mamprusi Municipal area and beyond to get these armed robbers arrested and to safeguard the area".
The police added that they will do everything to ensure that the area is protected from criminal activities.
"We want to assure the public of our resolve to weed out armed gangs in our communities to ensure socio-economic activities are carried out in a peaceful and safe society"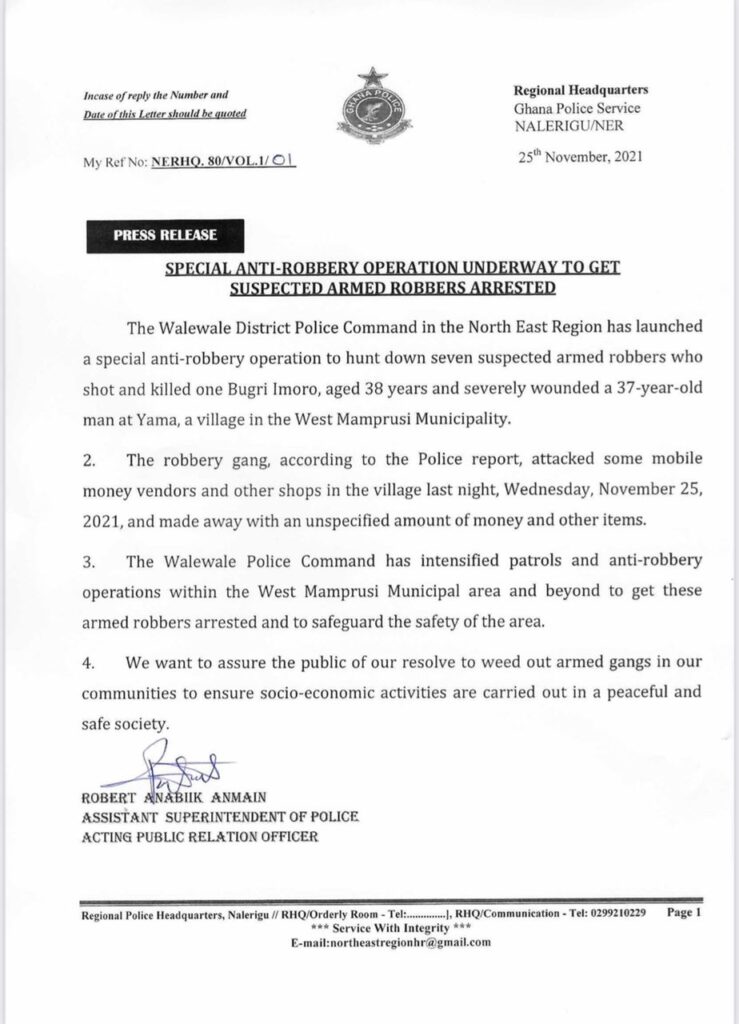 Mobile money vendors have been victims of armed robbery attacks as criminals see them as easy prey.
Several cases of such attacks have been reported recently.
August 2, 2021
Three suspects were arrested in connection with a robbery incident that occurred at a mobile money shop at Nasia in the North East Region.
The suspects Wahab Yakubu, 28; Fuseini Yakubu, 25; and Imoro Mohammed, 22; allegedly attacked and robbed the vendor Ibrahim Abubakari at gunpoint and bolted with GHC25,000 on Wednesday, July 28 at about 6:30 pm.
However, they were captured by a CCTV camera installed in the mobile money shop.
The CCTV video recordings were quickly handed to the Walewale District Command, leading to their arrest.
May 26, 2020
A 30-year-old mobile money vendor was shot dead at Kyobariyiri in the Jirapa municipality of the Upper West Region by armed men who attacked and robbed him on his way home from work.
The deceased, Emmanuel Baba-Ennawuori, was pronounced dead at the Jirapa Hospital, where he was rushed, after sustaining gunshot wounds.
On March 1, 2020
Armed men attacked and killed the Assemblymember for Sogakope in the Volta Region and took away GH¢30,000.
Mawutor Adzahli, who is a mobile money merchant, was knifed several times and shot in a dawn attack in his home at Sogakope.
December 28, 2019
A mobile money vendor, identified as Oldman Stephen, was killed by suspected armed robbers in his room at Choribang, a suburb of Bole in the Bole District of the Savannah Region.
The incident happened at about 10:30 pm and the victim was rushed to the Bole Government Hospital and pronounced dead on arrival following the severe gunshot wounds he suffered.
September 12, 2019
A mobile money vendor was allegedly killed by his friend at Gomoa Nyanyano in the Central region.
The deceased, whose name was given as Joseph Koomson, was stabbed three times and died on the spot.
The victim's family said he confronted the suspect who attempted to steal his money which resulted in a fight.
September 4, 2019 
Fuseini Inusah, 29, a mobile money vendor was shot dead by unidentified gunmen at Dambai in the Krachi East Municipality of the Oti Region.
The incident occurred at about 8.45 pm when the victim was returning home from work. The assailants left one locally manufactured gun at the scene.