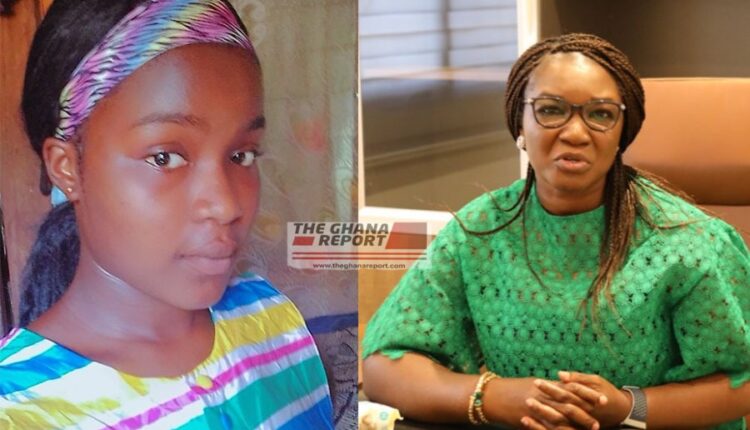 TGR gets results: Joyce Bawa Mogtari supports girl who scored 5As with GHC10,000
The face of 18-year-old Maame Acheampomaa Antwi Bosiako is beaming with smiles as she submits her KNUST application forms.
She heaves a sigh of relief because her dream of becoming a pharmacist is back on track.
This would not have been possible, but for former deputy Minister for Transportation Joyce Bawah Mogtari, who was moved to support when Maame's plight was brought to the limelight by theghanareport.com.
After the publication, many benevolent readers expressed interest in helping to pay for her fees.
But lawyer and politician Joyce Bawah Mogtari backed her promise with action and offered to commit GHC10,000 for the cost of Maame's first-year education at KNUST.
"I am very happy about this money. May God bless and replenish her, may her oil never run dry," joyful Maame chanted praises as she received the money.
Science Student Who Scored 5As And 3Bs Unsure How GHC100 Monthly Savings Will Fund Tertiary Education
Maame completed Yaa Asantewaa Senior High School in 2020 and scored 5As and 3Bs in the West Africa School Certificate Examination (WASSCE).
But the future for the science student was bleak.
Bleak because there was no money to finance her university education.
Her unquenchable desire to be a pharmacist swelled after the agonizing death of her 15-year-old brother.
At the same time, stroke has rendered her father paralyzed.
Her mother sweats barely to fix daily meals for the family.
Maame barely survived Senior High School, but for the introduction of the government's flagship Free SHS policy.
The 18-year-old  survives by teaching at Eden Royal International School in Old Tafo, a suburb of Kumasi.
"I decided to take up teaching because my parents are not financially able to pay for my fees; I am doing this so I can save up for school," she told theghanareport.com's Aba Asamoah.
For teaching Integrated Science and English for three Junior High School (JHS) classes for five days, she is paid a meagre GHC 300 monthly, below Ghana's national daily minimum wage of 11.82pesewas.
Out of the GHC300 monthly salary, she saves GHC100 to finance her tertiary education.
But this is woefully inadequate as the Doctor of Pharmacy course is six years. With these earnings, she will need to save at least 80 months to pay for a year's average fees of GHC8000 for a Bachelor of Pharmacy (B.Pharm) degree program.
Maame needs to raise at least 40,000 more to cover her remaining 5years in school.
Maame's family background
The determined girl is the second of four children.
Her father, a 48-year-old computer scientist, has been out of the job since 2014 after he suffered a stroke in the left part of his body.
This has left him confined as he moves only when it's time to visit the hospital.
Her mother, a 40-year-old petty trader, is the sole breadwinner of the family of five.
The little return she makes from her trade is consumed by food and medical expenses for her husband's treatment.
"My mother sells whatever product is moving on the market, she is a petty trader, and she takes care of my younger siblings and father," Maame noted.
Focus on achieving her dreams
A lot of young girls in Maame's situation, unfortunately, become easy prey for thirsty men.
"I don't have time for them," she scoffed.
According to her, even though she gets men hitting on her, she never pays any attention to their sexual advances.
"I don't have a boyfriend, and I don't intend to have one because there are more important things I need to do. I want to achieve my dream of becoming a pharmacist. I'll meet equally accomplished men later," she said confidently.
With her dream looking miles and miles away, the more she looks at her savings, she hopes and prays a benevolent organization or individual will come to her aid to complement her effort to achieve her dream.
Anyone who wishes to  support  Maame Acheampomaa can reach out to The Ghana Report Foundation on 030 296 5516 / 0548426252  or info@theghanareport.com