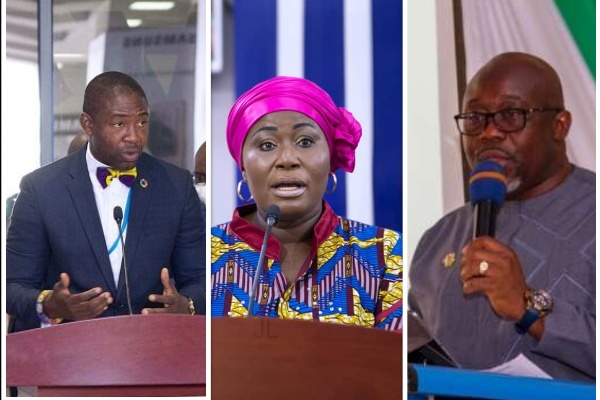 Gone too soon: At least 32 first-term MPs lose re-election bid
At least 32 new legislators would bid farewell to parliament after the December 7 polls truncated their four years in the House. 
These MPs failed to secure the mandate of their respective constituencies for another four-year term.
Out of a total of 125 fresh MPs who made a joyful entry into parliament in 2016, at least 25% were casualties with the majority being members of the governing New Patriotic Party (NPP).
This includes a prominent small group who gained the trust of President Akufo-Addo to be named as deputy ministers, ministers and members of Cabinet.
Among Ghanaians, there is a growing concern of a disconnect between the functions of an MP as stated in the constitution and the popular belief that they are development agents.
Most Ghanaians believe MPs are supposed to provide social amenities which often mean that unless the legislator could boast of providing infrastructure and meeting people's personal needs, their fine debating skills would not be relevant.
RELATED:  After 14 Yrs In Parliament, Here Are Two Reasons Why I'm Quitting – Inusah Fuseini
The NPP was the worse affected also because the party chose to allow some candidates to go unopposed at the primaries causing disaffection among some grassroots members.
In May 2019, theghanareport.com conducted research and published a list of the Top 10 First-Term MPs Who Excelled On The Floor Of Parliament.
Unfortunately, two of the top performers namely MP for Ledzokuku Benard Okoe-Boye and MP for Daboya/Mankarigu Shaibu Mahama could not make it back into parliament.
The research also excludes leadership of the house as by their position, they are often given more opportunities to contribute. It also excludes the correction of the minutes.
The work is a quantitative study of MPs and does not venture into the quality of debates on the floor of Parliament.
Additionally, theghanareport.com also published a list of 34 MPs Who Never Spoke In Parliament In 2019.
Out of the lot of silent MPs, four were also part of those would exit parliament as first-term legislators. They are all members of the governing party.
This group comprises of the MP for Zebilla Adongo Frank Fuseini, MP for Atebubu/ Amanten Kofi Amoakohene, MP for  Lawra Anthony Karbo and MP for Nkoranza South Charles Konadu Yiadom.
Also, among the Top 10 Most Vocal Female MPs In 2019
was MP for Krowor Elizabeth Afoley-Quaye who lost the elections.
Below is the list comprising of the 32 MPs.
| | | |
| --- | --- | --- |
| NAME | CONSTITUENCY | PARTY |
| 1.  Benard Okoe-Boye | Ledzokuku | NPP |
| 2.  George Andah | Awutu Senya West | NPP |
| 3.  Elizabeth Afoley-Quaye | Krowor | NPP |
| 4.  Anthony Karbo | Lawra | NPP |
| 5.  Barbara Ayisi | Cape Coast North | NPP |
| 6.  Barbara Oteng Gyasi | Prestea Huni-Valley | NPP |
| 7.  Micheal Gyato | Krachi East | NPP |
| 8.  Paul Essien | Jomoro | NPP |
| 9.  Abdul-Aziz Mohammed | Mion | NDC |
| 10.              Shaibu Mahama | Daboya/Mankarigu | NDC |
| 11.Francis Kingsley Ato Codjoe | Ekumfi | NPP |
| 12.Fuseini Issah | Ablekuma North | NPP |
| 13.Kpemka, Joseph Dindiock | Tempane | NPP |
| 14.Bekoe, Ohene Assifo Derek | Upper West Akim | NDC |
| 15.Kuganab-Lem, Robert Baba | Binduri | NDC |
| 16.Umar, Alhassan | Zabzugu | NDC |
| 17.Fordjour, John Ntim | Assin South | NPP |
| 18.Simon, Tampi Acheampong | Tatale/Sanguli | NDC |
| 19.Halidu, Ali Maiga | Dormaa West | NPP |
| 20.Nuamah, Samiu Kwadwo | Kwadaso | NPP |
| 21.Ebenezer Nartey | Ablekuma Central | NPP |
| 22. Gabriel Osei | Tain | NPP |
| 23. Kofi Amoakohene | Atebubu/ Amanten | NPP |
| 24. Adongo Frank Fuseini | Zebilla | NPP |
| 25. Alexander Abban | Gomoah West | NPP |
| 26. Abena Durowaa Mensah – | Assin North | NPP |
| 27. Charles Konadu Yiadom | Nkoranza South | NPP |
| 28. Yaw Afful |  Jaman South | NPP |
| 29. George Oduro | New Edubiase | NPP |
| 30. Yaw Buabeng Asamoah | Adentan | NPP |
| 31. Oddom, Abraham Dwuma | Twifo Atti Morkwa | NPP |
| 32.Amoakohene, Kofi | Atebubu/Amantin | NPP |